… as usual. ( Updated, Thurdsay, at the end)
Thank you again for being so encouraging, and I am happy to report that my clothes were suitable. Do not underestimate the satisfaction this word brings. I was not overdressed compared to the others, but neither did I feel like Cinderella after midnight.
We did start off a little poorly by not reading our invitation properly. We turned up at our friends' house, just as his son and wife walked out of the front door. "Um" he said politely, for he is a most charming young man, "the party's not here, it's at Mahsrae Llah." We turned the car and embarrassedly drove back the way we'd come. The Hall was, until about 1930, the family home of our host, but some of the estate was sold off and, after a few changes of ownership, a family bought it about 25 years ago and have been restoring the original features ever since, running a business from there too. For the last three or four years, they have been doing weddings and similar jollies as well, although they do not do catering and so the restauranteurs where I mentioned having lunch the other day with Squiffany were in to provide dinner. Two daughters of a friend of mine, each of whom in turn was the restaurant manager until they moved on, were there as waitresses and it was good to see them again although they were, of course, too busy to chat. There were huge fires in every grate and I was quite warm, although bare-armed.
Delicious dinner, splendid company, we had a lovely time. I flirted decorously with my left-hand neighbour, who has been friends with our host from prep school days, over 60 years ago. Our opposite neighbour, an elderly lady I have known for years but in daytime situations, was slightly perturbed by this and wondered, by the look in her eye, if I was being carried away by unaccustomed wine, but I assured her that I'm always like this in the evenings, with or without the booze. I was a touch disconcerted, admittedly, by my wine glass being refilled after almost every sip; as I was chatting in the animated way that makes Z Good Value at a gathering, I did not always notice the stealthily pouring hand. Not that I drank too much, would I do that?
It was, although relaxed and happy, a slightly formal do: for example, the ladies retired after dinner, leaving the gentlemen to their port and racy anecdotes (I'm happy to say that port had been brought round with some highly yummy cheeses and totally delicious biscuits, which I must buy; fortunately the restaurant has a deli) and I sat next to someone whom I hadn't met for at least 15 years; she had been the rather posh secretary at my daughter's school. On my other hand was an elegant lady who had the rangy and handsome look of a racehorse.
I also had a happy opportunity to chat to friends who moved away from the village about 18 months ago, whom I haven't seen since. A great pleasure. I have promised to call, when I'm going down the A11 (or do I mean the M11?) as it is not a long detour.
Snowing when I left, snowing again at 8.30 this morning. Not enough to make a snowman, however, so my winter is not yet complete.
Tomorrow, I will take a photograph of my necklace for the Chairwoman and Stegbeetle – who might have meant photos of Me but, charming as he is to suggest it, I'm afraid that any taken are in the possession of the family and, don't you always find, pictures taken at a party always find you with your mouth full of food or open in raucous laughter and are not fit to be shown in mixed company.
And today's the day that was tomorrow yesterday.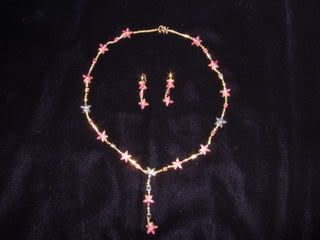 The more observant among you may notice that the background on which the necklace lies is the velvet skirt.

This entry was posted in