gardening. Hacking away at the weeds with a scythe. I like using a scythe, but the Sage doesn't trust me not to cut my feet off so I'm only allowed to use it if he's within shrieking distance.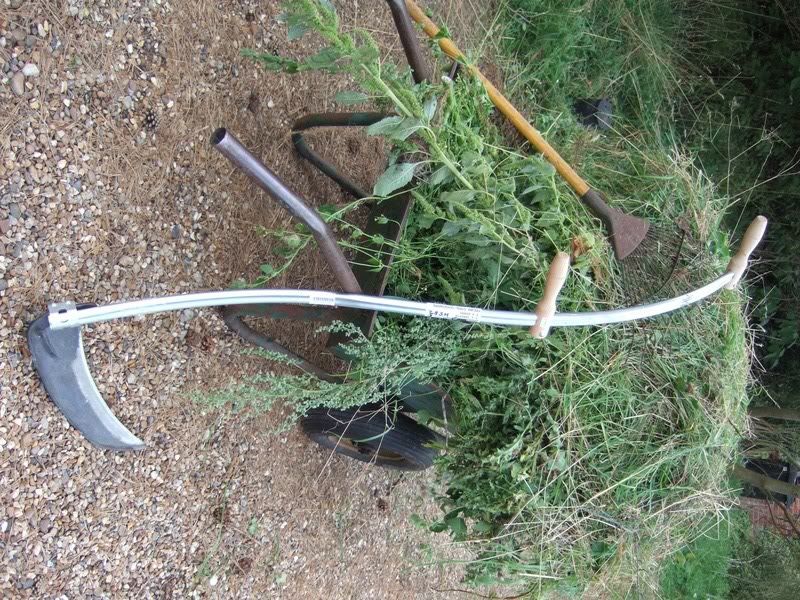 It is very hot. But there are satisfying swathes of recumbent greenery where there had been malevolently threatening nettles (previously left, I pretend, for the sake of the caterpillars).
And I picked the morning's crop of figs. The highest-up ones are being left for the birds; there are enough to share.


I'd wanted to plant a fig tree for ages, but didn't have anywhere suitable. Then my husband built a new workshop and it gave me a south-facing wall. We dug out a 2 foot cube and lined it with 5 x 2 foot paving slabs. The reason for this is that a fig tree is vigorous and you need to restrict the roots, otherwise it will grow huge, take longer to fruit and the figs will be too high up to reach. We refilled with lots of manure and compost and firmed down the soil hard after replanting. We do water it once in a while, but it's pretty good-natured and needs no work at all. Though I might have to prune it eventually and I'd have to look up what to do.

It's a Brown Turkey fig and it's been there about 6 years I should think. It started fruiting within a year or two and now has loads, although it depends on the season. It isn't actually in full sun as there is an ash tree a few yards away. The figs are gorgeous, juicy and delicious.

This entry was posted in